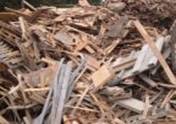 Here at J.A. Simpson we offer a variety of recycling services to commercial, industrial and municipal customers throughout the area. We strive to meet the highest expectations of our customers, whether at our DEP licensed facility or out on site.
We operate a DEP licensed and permitted Construction & Demolition Recycling and Transfer Facility. All incoming materials are weighed on a 60 ton Cardinal scale. This ensures accuracy in tracking material in and out of the facility.
We accept the following materials for a by-the-ton fee:
Mixed Demolition Material
C&D Wood Materials
Pallets & Crates
Railroad Ties
Telephone Poles
Metal
Sheetrock
Asphalt Shingles
Stumps
Brush
Tree Trimmings
Please call or email us for current pricing and info.
*CLEAN LOGS AND PULPWOOD ACCEPTED AT NO CHARGE*
Our recycled wood is ground into wood fuel. Unfortunately, pressure treated and creosote treated wood cannot be used as fuel and must be sent to a landfill. The recycled wood fuel is then hauled to power plants and is used to generate electricity. Here at J.A. Simpson, we are doing our part to help reduce the nations dependence on fossil fuels. We also recycle metal, asphalt shingles, bricks, blocks, and concrete.
Any appliances such as refrigerators and air conditioners are stored in a secure area until they are properly drained and tagged by a licensed Freon recovery company. This ensures that no harmful materials are emitted into the atmosphere.